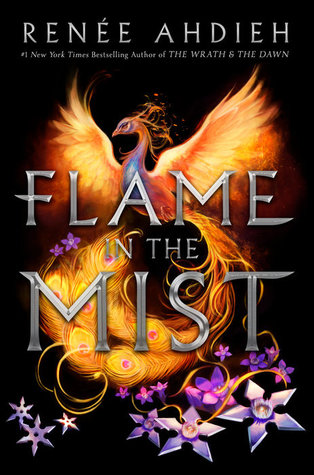 *Thanks to Netgalley for an ARC in exchange for a fair review*
Expected publication:
May 16, 2017
The daughter of a prominent samurai, Mariko has long known her place—she may be an accomplished alchemist, but because she is not a boy, her future has always been out of her hands. For political gain, Mariko is promised to Minamoto Raiden, the son of the emperor's favorite consort. But on the way to the imperial city of Inako, Mariko narrowly escapes an assassination attempt by a the Black Clan, who she learns has been hired to kill her before she reaches the palace.
Disguised as a boy, Mariko seeks to infiltrate the Black Clan, determined to track down the person responsible for the target on her back. But she's quickly captured and taken to the Black Clan's secret hideout, where she meets their leader, the rebel ronin Takeda Ranmaru, and his second-in-command, his best friend Okami. Still believing her to be a boy, Ranmaru and Okami eventually warm to Mariko, impressed by her intellect and ingenuity. As Mariko gets closer to the Black Clan, she uncovers a dark history of secrets, of betrayal and murder, which will force her to question everything she's ever known.
Ahdieh excels at writing a detailed, compelling narrative a cut above that typically found in YA fiction. While the story is steeped in Japanese tradition and history, she's able to blend an air of modernity through fantasy and budding romance that will appeal to many readers. Mariko is a fantastic female protagonist who years to be seen as more than just a girl whose body and dowry will provide her father with power and standing.
I did feel as if the pacing slowed a bit toward the middle; however, the ending was solid with plenty of action, secrets and betrayals. There are several cliffhangers that will have readers clamoring for the next book.
Final rating: 4 out of 5 stars