This final volume features three short stories:
"Order of the Wicked"
- Dorothy Gale's armies killed Lanadel's entire family, and she's determined to seek revenge. She sets off to find the elusive, secretive group known as the Revolutionary Order of the Wicked. They're rumored to be training their own army to defeat Dorothy. But when she finds them, Lanadel soon learns that she's seriously underprepared both in fighting skills, as well as magical abilities, and she has to prove herself in order to join the Order and become one of them.
Readers will encounter Lanadel again in
The End of Oz
. I liked this story but it wasn't a favorite. However, it was interesting to see this earlier side of Knox and Melindra.
Final rating:
3 out of 5 stars
"Dark Side of the Rainbow"
- Polychrome, Princess of the Rainbow, has a pretty cushy job. She spends her days surfing at Indigo Beach, playing with her pet unicorn, and occasionally checking in on the tourists vacationing at Rainbow Falls, where she is—technically speaking—in charge. When Dorothy arrives, Polly is less than thrilled. She'd much rather flirt with mysterious surfer Bright than play tour guide to a spoiled wannabe princess. But Rainbow Falls won't be paradise by the time Dorothy's done with it. And Polly may have to leave her life of leisure behind, to become the ruler her land needs.
I enjoyed this story, especially the drastic character progression of Polly's demeanor about being a ruler compared to what she's prepared to do at the novella's end in order to protect her land. I adore the unicorn and have a better appreciation for Polly's role in the series.
Final rating:
4 out of 5 stars
"The Queen of Oz"
- Young Mombi was never the best witch in Oz. She wasn't the most talented, or the most powerful. But when the Wizard knocks on her door holding a baby girl who needs protection, Mombi agrees to take the job. She casts one powerful, surprising spell—hiding the baby where no one would find her. Years later, a boy named Pete goes on a journey to the Emerald City, where he learns the truth about his true identity…and his role in Oz's destiny.
This story is perfect for readers wanting some Mombi backstory as well as a better understanding of the Ozma/Pete enchantment. Mombi certainly comes across as more sympathetic and Pete's choices, based on his isolation, shed light on the narrative happenings featuring Glinda, Ozma and eventually Dorothy.
Final rating
3.5 out of 5 stars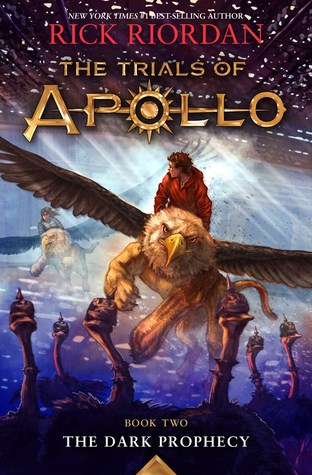 Zeus has punished his son Apollo—god of the sun, music, archery, poetry, and more—by casting him down to earth in the form of a gawky, acne-covered sixteen-year-old mortal named Lester. The only way Apollo can reclaim his rightful place on Mount Olympus is by restoring several Oracles that have gone dark.
After experiencing a series of dangerous—and frankly, humiliating—trials at Camp Half-Blood, Apollo must now leave the relative safety of the demigod training ground and embark on a hair-raising journey across North America with some familiar companions for fans of Riordan's
Percy Jackson and the Olympians
and
Heroes of Olympus
series (Leo, Calypso, Meg).
I loved this book (even though the audiobook fell a bit short for me again because of the narrator's mispronunciation of terminology). It is hilarious but well written and well paced with attention to detail, character progression, and the author's ability to incorporate diversity within the story.
Final rating: 4 out of 5 stars