Every year my library participates in the SWON Teen Reading Challenge for February and March. This year, I read 27 titles:
Cheesus Was Here by J.C. Davis
Long Way Home by Katie McGarry
HellHole by Gina Damico
Leviathan by Scott Westerfeld
The Invisible Library
by Genevieve Cogman - The first installment of an adventure featuring stolen books, secret agents and forbidden societies - think Doctor Who with librarian spies! Irene is a professional spy for the mysterious Library, which harvests fiction from different realities. And along with her enigmatic assistant Kai, she's posted to an alternative London. Their mission - to retrieve a dangerous book. But when they arrive, it's already been stolen. This is a fun series with humor, fantastic creatures and adventure. Not marketed for teens but with plenty of crossover appeal, especially for those who enjoy the
Great Library
(
Ink & Bone, Paper & Fire)
series by Rachel Caine.
Final rating:
4 out of 5 stars
The You I've Never Known by Ellen Hopkins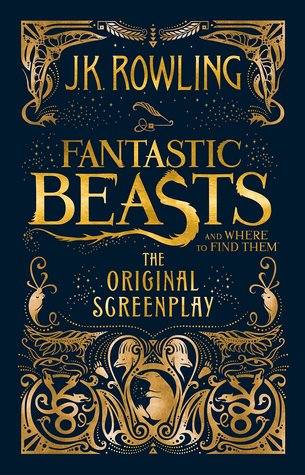 Fantastic Beasts and Where to Find Them
(original screenplay) - I can't say that this was a particularly exciting read since I'd already seen the film but as you'd expect, it is literally the screenplay complete with stage directions.
Final rating
: 4 out of 5 stars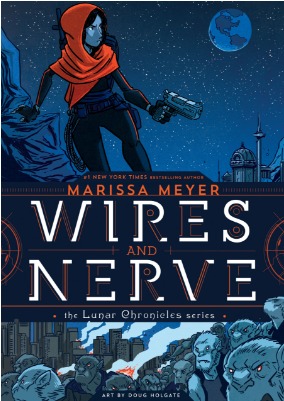 Wires and Nerves Vol 1
by Marissa Meyer -
the first installment of these graphic novels picks up where
Winter
and the end of the
Lunar Chronicles
leaves reader favorites following the end of the series. The story follows Iko, the android with a heart of (mechanized) gold. as she tracks rogue packs of wolf-hybrid soldiers who threaten the tenuous peace alliance between Earth and Luna. She takes it upon herself to hunt down the soldiers' leader. She is soon working with a handsome royal guard who forces her to question everything she knows about love, loyalty, and her own humanity. The story is funny and engaging with plenty of cameos from other series' favorites. One downfall for me is the illustrations. I'm not a fan on the bluish, monochromatic style and would have preferred full color panels to make the narrative really come alive.
Final rating
: 4.5 out of 5 stars
King's Cage by Victoria Aveyard
Gilded Cage by Vic James
The Phantom of the Opera
by Gaston Leroux - ever a classic and actually a category for this year's Pop Sugar Reading challenge to read a book mentioned in another book
Roseblood
by A.G. Howard. It was just 'okay' for me - kinda over the top dramatic and a bit silly. I think I'll still with the theater adaptations.
Final rating
: 3 out of 5 stars
The Darkest Minds trilogy by Alexandra Bracken
Game by Barry Lyga
Blood of My Blood by Barry Lyga
Exposure by Kathy and Brendan Reichs
Terminal by Kathy and Brendan Reichs
Trace Evidence: A Virals Short Story Collection
by Kathy and Brendan Reichs
-
a companion volume to the series which includes the 'wedding' novella following the end of the series. Definitely recommended for reads who loved the books and want just a bit more of Tory and her boys. I loved the wedding hi-jinx!
Final rating:
4 out of 5 stars

The Shadow Queen
by C.J. Redwine -I enjoyed this twist on Snow White. Princess Lorelai of Ravenspire is forced to flee her kingdom and live the majority of her adolescence in hiding as a fugitive, when her evil stepmother kills her father and poisons the land with her dark magic. The princess vows vengeance and studies to hone her magic to eventually defeat the Evil Queen. In an neighboring kingdom, readers meet Kol, newly crowned dragon-king after the demise of his father, mother and elder brother. He must solicit the Ravenspire Queen's magical help if he's to save his people from ogres. The price: Lorelai's heart in a box. What he doesn't count on is Lorelai's fierce spirit and beauty. Together they work toward defeating the Queen and saving their lands.
This was fun, action packed and romantic with plenty of good fantasy and sass.
Final rating:
4 out of 5 stars
Starfall
by Melissa Landers -
Starfall
follows Princess Cassia Rose who fled her home world of Eturia to escape an arranged marriage, she had no idea her sudden departure would spark a war. Now after two years hiding as a ship hand, she is finally returning to her beloved home, but not in the way she imagined. Shackled by bounty hunters, she is violently dragged back to account for her crimes. Her only solace is that the Banshee crew managed to evade capture, including Kane Arric, her best friend...with occasional benefits. Lots more happens (almost two much in the romantic, space adventure). Fans who enjoyed
Starflight
will be happy to see other characters. In general, an entertaining read even if the plot seems to meander a bit in the middle.
Final rating
: 4 out of 5 stars
An Ember in the Ashes
by Sabaa Tahir - in a brutal world inspired by ancient Rome, Laia lives with her grandparents. When her older brother is arrested for treason, she has to make a choice. In exchange for help from rebels who promise to rescue her brother, she will risk her life to spy for them from within the Empire's greatest military academy. There, Laia meets Elias, the school's finest soldier—and secretly, its most unwilling. Elias wants only to be free of the tyranny he's being trained to enforce. He and Laia will soon realize that their destinies are intertwined.
I'd always heard a lot about this book. I wasn't disappointed, per se, but it was unlike what I'd expected. Nothing in particular stood out regarding the character or narrative. Entertaining but not to the point on infatuation. I remain curious enough to continue with book 2.
Final rating:
3.5 out of 5 stars
The Lifeboat Clique
by Kathy Parks - this is a funny, yet dark, story of Denver--notoriously unpopular girl who decides to attend a party, only to be swept away by a tsunami and stranded out to sea with a host of mean girls, including her former BFF. This book in definitely for fans of Libba Bray's
Beauty Queens
. It is funny but harsh. Read it in print and avoid the audiobook (WHICH WAS TERRIBLE!)
Final rating:
3 out of 5 stars
Touch of Frost
by Jennifer Estep - Gwen Frost attends Mythos Academy following the death of her mother. The students have abilities and significant ties to mythological lore. Gwen has psychic abilities and is drawn into an investigation when a fellow student is killed. Action packed with good angst, humor, romance and characters. I could tell that this was some of Estep's earlier writing but still enjoyable enough to pursue the rest of the series. Definitely a readalike for those who enjoy mythology and Rick Riordan but want more teen angst and less silly humor.
Final rating:
3 out of 5 stars
Queen of Hearts
by Colleen Oakes - Dinah is the princess who will one day reign over Wonderland. She has not yet seen the dark depths of her kingdom; she longs only for her father's approval and a future with the boy she loves. But when a betrayal breaks her heart and threatens her throne, she is launched into Wonderland's dangerous political game. Dinah must stay one step ahead of her cunning enemies or she'll lose not just the crown but her head.
Queen of Hearts
is everything Meyer's
Heartless
should have been--dark, edgy and filled with mystery as to just how exactly the Queen of Hearts arrives on her throne as a cold and malicious ruler. I enjoyed the twisted nods to the original tale and look forward to the rest of the series.
Final rating:
4 out of 5 stars
The End of Oz
by Danielle Paige - this was a nice finale to the
Dorothy Must Die
series. Amy and her allies find themselves in the land of Ev, trying to thwart the Nome King and his new 'bride, Dorothy. There is plenty of humor, action and romance.
The ending is satisfying but Paige adds in just enough hope that there might be room for a spin-off series down the yellow brick road. I continue to be a huge fan of these audiobooks.
Final rating
: 5 out of 5 stars
A Crown of Wishes by Roshani Chokshi

Challenger Deep
by Neal Shusterman - this novel is a stunning masterpiece which attempts to chronicle mental illness in a young teen named Caden Bosch. His friends and family notice a significant change in his behavior. Shusterman does an amazing job at conveying the narrative as well as alternating chapters characterizing Caden's dive into madness and the journey out. I cannot stress enough how brilliant the audiobook is--so if you are reading for the first time or just want to experience the novel again, try it in this format.
Final rating:
4 out of 5 stars