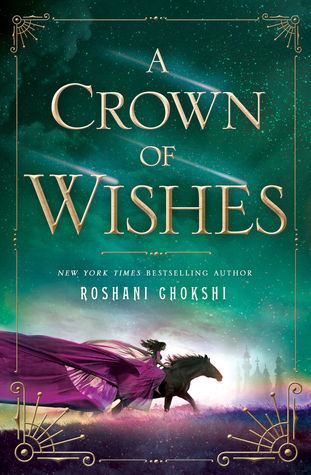 *Thank you to Netgalley for an ARC in exchange for a fair review*
A Crown of Wishes
is the stunning sequel to 2016's
Star Touched Queen.
Gauri, Princess of Bharata, has been taken as a prisoner of war by her kingdom's enemies and has little hope for her future.
Enter Vikram, the cunning prince of this enemy land. Unsatisfied with becoming a mere puppet emperor, Vikram offers Gauri a chance to win back her kingdom in exchange for her battle prowess. Together, they'll have to set aside their differences and team up to win the Tournament of Wishes—a competition held in a mythical city where the Lord of Wealth promises a wish to the victor.
Merely reaching the Tournament is just the beginning with a slew of challenges including dangerous courtesans, songbirds, feasts and fears that will have to keep Gauri and Vikram's senses sharp if they have a chance to win.
Truthfully, I think I enjoyed this novel more than Chokshi's debut. I found it easier to engage with Gauri and Vikram in their adventure. Readers are in for a treat with the lush, exotic imagery and adventure steeped in Indian mythology and lore. Honestly, I loved everything about the writing and characters. The descriptions held me transfixed to the adventure as did the fantastic romanticism and passion built between protagonists.
Final rating:
5 out of 5 stars
Follow the author on Twitter: @NotRashKnee