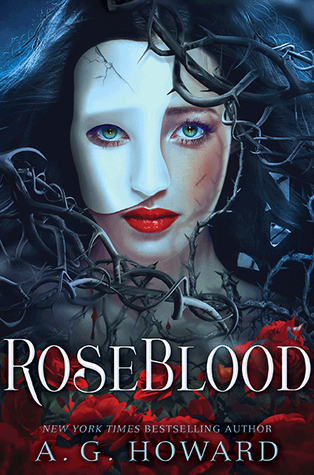 *Thanks to Netgalley & Amulet Books for an ARC in exchange for a fair review*
RoseBlood
is a modern day spin on Gaston Leroux's Gothic classic
Phamtom of the Opera
with more than a nod to Mary Shelley's
Frankentstein
.
Seventeen year old Rune Germain is an operatic virtuoso, except that she has a mysterious ailment peculiarly related to her operatic talent. She's also hiding a horrifying mistake, one she hopes doesn't follow her to France. Hoping to spurn Rune's creative direction, her mother enrolls her into an exclusive French music conservatory rumored to have ties to The Phantom of the Opera.
At the school, Rune's strange ability to read auras as well as her overwhelming compulsion to sing leads her to embark on a secret relationship with Thorn, an elusive violinist who guides her musical transformation. While these two form an otherworldly connection, it becomes apparent that Thorn's motive are not all that innocent. The son of the famed Phantom, he must make some difficult choices: help the only father he's ever known carry out a dark plan which will lead to Rune's ruin or stand against him to unite with his soul mate.
What I liked...
The cover art - just breathtaking!
The concept of blending characters and themes from these classics into a modern story.

I've never read Phantom of the Opera but want to. I know the basics of the story and characters. Howard does an fantastic job of paying homage to the original in a creative way that will appeal to contemporary YA readers. Frankenstein is one of my favorite books ever written. I enjoyed just the smattering of influence of this piece in RoseBlood. There are times that Erik aka The Phantom reminds me so much of Victor Frankenstein in his scientific pursuits.

Howard's lush, vivid imagery and detailed descriptions.

Readers familiar with the Splintered series should know that this is her forte. Passages throughout are really like little word-pictures transporting us as if we are really in the converted opera house in France--the creepy rooms and secret passages, the dilapidated garden, cemetery and chapel.
What I didn't love...
Rune...

Following Alyssa as a female protagonist is hard work. Rune just didn't do it for me. I wanted her to be a more active player in the grand scheme of things. While she does play her part, I wanted her to be a bit more kick-butt and snarky than she is actually portrayed.

The POV changes...

I get that moving from Rune to Thorn advances the plot but I think I would have enjoyed the narrative more if the whole story was from Rune's POV, blended with more shared dreamscapes between her and Thorn to piece together the rest of the puzzle. This is just me being picky as a reader. The overall flow of the narrative works but as a standalone novel, I was left wanting to know more about the origins of Thorn's and Runes abilities, how it works and how Rune will go about learning and mastering her gifts. It all go wrapped up a bit too nicely.

The ending...

As I said, I wanted more resolution to the end. Still enjoyable but more please!
PS: A.G. can we have a couple short stories? PRETTY PLEASE?!?!?
Overall, I recommend this typically for the female YA reader looking for a supernatural inspired, twisted tale. Again, it is nice that it is a standalone but fans will be hankering for more!
Final rating: 3.75 out of 5 stars
Follow the author on Twitter: @aghowardwrites
#RoseBlood #PhantomOfTheOpera #Frankenstein #opera #romance #YAlit #teen #mystery