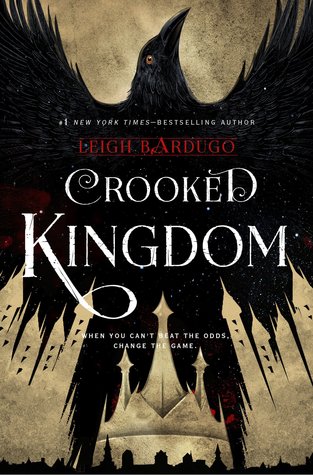 After a few weeks, I'm still not sure I have to words for how wonderful Crooked Kingdom was to read and experience.
In
Six of Crows
, Kaz Brekker and his crew pulled off an epic heist that they never thought they'd survive. However, instead of celebrating their victory, they are once again fighting for the lives. Double crossed and virtually crippled by the kidnapping of a valued team member, the group is low on resources, allies and morale. As even more powerful forces arrive in Ketterdam to investigate the deadly drug
jurda parem
and its affect on the Grisha, new and old enemies test the team as a war brews.
I LOVED THIS BOOK!!!
Inej - is super awesome beyond measure!
DO NOT MAKE HER MAD!
Kaz - oh, Kaz how I adore you!
Matthias - I need to go cry in a corner!
Nina - you're a bad ass but eek, easy with those new powers, girl!
Jesper - careful there, don't gamble your money or your heart!
Wylan - so adorable, great with the things that go boom and some added surprises!
I am delighted that this duology had such a stellar ending even if this phase of the story has to come to a close. This rag-tag team of thieves, crooks, and misfits are fascinating as are their individuals stories past, present and future.
Bardugo doesn't disappoint for action, suspense or romance plus adding in plenty of questions for future writing explorations in this fictional world AND making me sob like a baby.
Perfect in nearly every way, I can't wait to pick up both novels and read them again and again.
Final rating:
5 out of 5 stars
#CrookedKingdom #LeighBardugo #YAlit #teen #lovelovelove