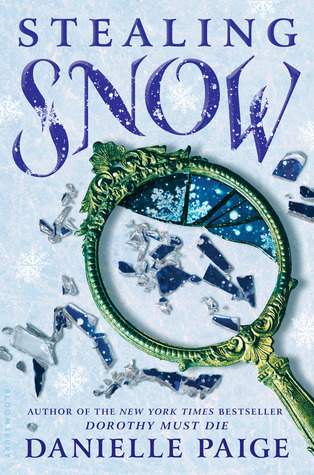 *Thank you to Netgalley and Bloomsbury for an ARC in exchange for a fair review*
Expected publication:
September 20, 2016
Stealing Snow
is a twist on the classic Snow White fairy tale. Snow has spent the majority of her adolescence as a asylum patient in New York, medicated by pills she dubs with dwarf names. Her only solace is Bale, the troubled young boy she loves. Extreme emotions and anger tend to make very strange things happen around Snow. When Bale disappears and the mysterious Jagger provides Snow an opportunity to escape, her world turns upside down. Discovering that she's the long lost princess prophesied to save a fantasy kingdom from the evil king, Snow has to learn not only to control her own magical powers but also who to trust as she seeks to save Bale and the land from her evil father's clutches.
What to say? What to say?
This was one of my highly anticipated titles of 2016. However, I struggled getting through the narrative for a variety of reasons. The premise is strong and the story begins with promise but this first book fails to live up to the expectations set by Paige's
Dorothy Must Die
series.
One problem I had was with characterization. Snow lacks a truly dynamic personality. Sure she's been isolated and has a lot to acclimate to given the reveal of her heritage but she really comes across as rather bland. There is a push for her to turn into a more of a heroine by the novel's end and perhaps she'll grow more for the next book; however, I was just disappointed and wanted a character with more snap and snark like Amy in
Dorothy Must Die
. Similarly, as 'the love interest', Bale falls flat since he really isn't featured much. I prefer Jagger and to another degree, Kai but there is also room to see if this characterization develops further into the series.
Another disappointment for me was pacing. I really felt as if the flow of the narrative was all over the place. There are just too many scene locations without strong connections between them. Snow hops from the asylum to a fantasy land but then proceeds to jump between other locations and scenes without fully utilizing the introduction of these locales or characters.
Overall, I still liked the book but its flaws tarnished my expectations. I had to push myself to even finish it at times because I just couldn't fully engage with the characters or storytelling.
Final rating
: 3 out of 5 stars
Follow the author on Twitter: @daniellempaige
#daniellepaige #stealingsnow #netgalley #YAlit #teen #review