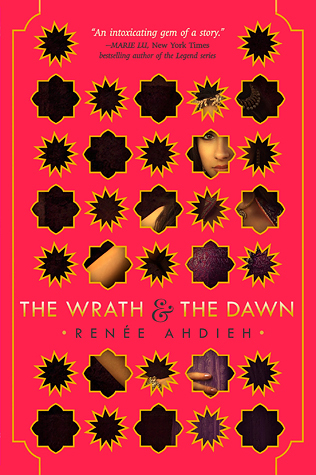 Imagine a far off kingdom ruled by a murderous king. Eighteen year old Caliph of Khorasan is known as a monster. Each night he takes a new bride only to have her murdered, strangled by a silk cord each morning. After her best friend is killed in this horrific manner, sixteen year old Shahrzad vows vengeance at any cost. She not only volunteers to marry the Caliph but to also discover the truth and enact revenge.
The Wrath & the Dawn
begins to weave the tale of
One Thousand and One Nights
. Shahrzad tells enchanting stories, ensuring her survival night after night. However, what she doesn't count on is growing to care for her new husband, especially after learning the truth behind his tragic curse. In a nod to
Beauty and the Beast
, Shahrzad must then struggle with the fate of her best friend while also helping to break the curse and weather the storm of rebellion and unrest swirling around the kingdom.
I really enjoyed this book and its unique retelling of some classic tales. Shahrzad is spunky and an admirable heroine. I liked the juxtoposition of Ahdieh's characterization of women in the story as opposed to how women we considered (and still are) amongst middle eastern society (both fiction and IRL).
Overall, this is well written with strong characters and good world building. There is certainly more appeal to a female reader, especially with the emphasis on romance. While not graphic, Shahrzad and Caliph's relationship includes sexual intimacy, so when recommending the book make note.
As I continue on to book 2, I'm interested to see how the magical element plays out, especially Shahrzad's abuse of power and a possible fallout and how that might translate to our heroine herself.
Final rating:
4 out of 5 stars
Follow the author on Twitter:
@rahdieh
#TheWrathandtheDawn #reneeahdieh #shahrzad #romance YAlit #beautyandthebeast #1001nights