***CAUTION! SPOILERS AHEAD!***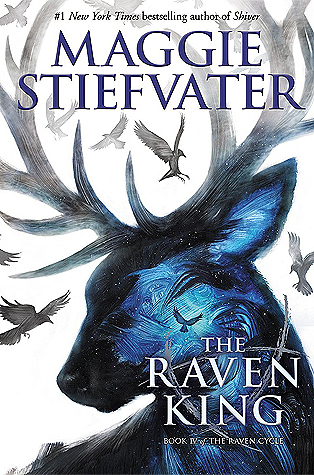 The Raven King
is Stiefvater's final installment in the
Raven Cycle
. Gansey continues his quest to discover an ancient lost king; however, evil lurks in Henrietta, Virgina with the power to unmake the world. The allies he's met along the way are still with him; a cast of magicians to his own kingly status.
"What a strange constellation they all were."
First there's Ronan, who steals from dreams and readers learn some startling truths regarding his own connection to mysterious Cabeswater. Personally, he's my favorite character. There's layers of depth not usually found in most YA literature or in most other stories. He's fascinatingly broken and dangerous but also loyal and the ultimate survivor. I love where Stiefvater takes his character and I'm more than a little upset that the journey is over. I need more!
"Dreamers are to be classified as weapons.

Ronan already knew he was a weapon ; but he was trying to make up for it."
Then there's Adam. In his own way he's also broken and has to learn to find peace with his past in order to have a future. Following the events of the series, Adam's life is not his own and that choice fuels much of the story's outcome. There are some surprises in store for him and for readers but it leads to a thoughful and satisfying conclusion.
"Adam Parrish – magician and puzzle, student and logician, man and boy."
One
slight
complaint with this book is that Blue's overall presence isn't as strong as in previous books but when she is, I adore her. We finally see her 'curse' and vision come to fruition. I love her interactions with the boys and her family continues to be fascinating.
"Today, Blue thought, is the day I stop listening to the future and start living it instead."
Noah in some respects plays less of a front and center role but also a cruicial part toward the story's climax. We've known for a while that his continued presence despite Cabeswater's power isn't permanent. All the characters have been through trauma but Noah more than most, after all, he was murdered and only lingers because of the ley line. However...as Steifvater indicates...depending on when you begin the story, it is about Noah. He's connected to all things and characters and his final sacrifice is a true gift.
"Noah crouched over Gansey's body. He said, for the last time, 'You will live because of Glendower. Someone else on the ley line is dying when they should not, and so you will live when you should not.'




'Goodbye,' Noah said. 'Don't throw it away.'

He quietly slid from time."
Honestly, I LOVED the book and the entire series. Some books were better than others but this ended with such a well written and satisfying conclusion that I have no complaints. Stiefvater has a true talent for writing unique, thought provoking and elevated fiction for teens with significant adult reader appeal. There are very few in her caliber. This is one of those series where finishing it hurts my heart but I feel happy but long to start the cycle all over again. Reviews are mixed but I love Will Patton's narration of the audiobooks, so give them a try!
Final rating: 5 out of 5 stars
Follow the author on Twitter: @mstiefvater
#RavenKing #TheRavenCycle #epic #YAlit #teen #books #feelallthefeels