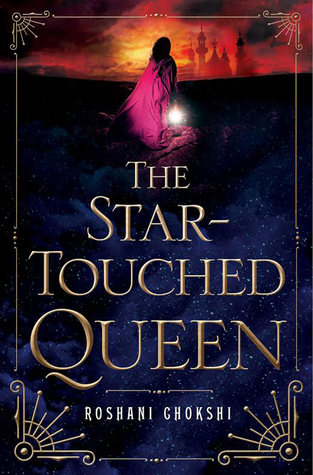 Expected publication:
April 26, 2016
Cursed with a dark horoscope leaving her fated to marry Death and Destruction, Princess Maya is scorned and feared by all within her father's kingdom. With war looming on the palace's very doorstep, the Raja, arranges a wedding of political convenience in hopes to quell rebellion. Maya is devastated since the act takes her away from scholarly pursuits as well as her beloved half sister.
The fateful day arrives with some surprises. Maya soon finds herself whisked away, becoming queen of Akaran and wife to Amar. Here she finds her voice and power as his equal. But trust is not easily won in this mysterious kingdom made up of locked doors, gardens of glass and a tree that bares memories instead of fruit. Maya must unravel her own past and an ancient mystery spanning many reincarnated lives in order to save those she loves.
Chokshi's writing is lush and beautifully descriptive. I felt transported to these kingdoms and longed to see the vivid silks, jewels and embellishments for myself.
The Star-Touched Queen
fits nicely within the trend of a middle eastern-esque setting with supernatural flare. The author's exploration of Indian mythology and lore makes for a truly unique reading experience that will entice audiences from the first page. The cover art is captivating as well.
Overall, I appreciated the story's pacing and development. I found Maya really fascinating and think her voice will resonate with readers. I've had some limited Twitter interaction with Chokshi and she's just been delightful. I wish her all the best with this publication. I definitely recommend this for purchase --ages 14 and up for those who enjoy fantasy steeped in mythology, mystery and romance.
Final rating: 4 out of 5 stars
Follow the author on Twitter: @NotRashKnee
#startouched #roshanichokshi #fantasy #YAlit #romance #mystery #netgalley #books