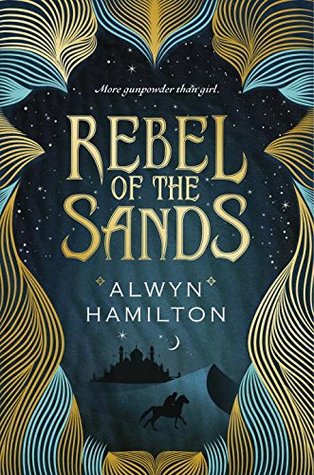 Rebel of the Sands
is a magical debut from author Alywn Hamilton. The desert is a harsh and desolate landscape. While mortals may rule the nation of Miraji, fearsome creatures of legend roam the wilder, remote areas and rumors swirl that djinn still perform magic.
Amani Al'Hiza feels trapped in this unforgiving place. Poor, orphaned, and female, her future seems sealed to either wed or die. As a talented gunslinger, with perfect aim, she hopes that this might lead to enough money to escape Dustwalk. When Amani meets Jin, a captivating foreigner, she sees him as her way out, but she never expected that his complicated and dangerous ties would lead to her own self discovery and alter her future forever.
"Haven't you ever wanted something so bad that it becomes more than a want? I

need

to get out of this town. I need it like I need to breathe."
This novel is one of several in the latest YA trend blending an exotic desert setting with Middle Eastern ideals and folklore. Hamilton builds a detailed world full of beautiful description and memorable characters. Amani is a fantastic female protagonist exhibiting relatable qualities of some of the greatest YA heroines. She's kick butt, no nonsense and snarky but also practical and vulnerable.
I liked the greater commentary regarding feminism and expected societal roles. Amani realizes that her status as a young woman in her culture limits her future. Women are used and abused--and if she doesn't leave Dustwalk, she'll be forced to marry (most likely her uncle) or end up dead. Hamilton introduces a supernatural element as a means for Amani to gain power and some semblance of control over her life. I enjoyed this development--especially the author's stance on the djinn as powerfully magical beings of fire rather than figures enslaved in a bottle waiting to do another's bidding.
The addition of the rebellion and its surprising ties to Amani as well as the passionate romance developing between Amani and Jin makes for compelling reading. Hamilton builds layers within each chapter by delving into a thought provoking plot. There's great adventure and some pretty scary creatures (I do not want to encounter a skinwalker or nightmare EVER!) but...I totally want a cool mythical desert horse!
I highly recommend the audiobook as narrated by Soneela Nankani (@soneela). The performance was engaging; so much so, that I couldn't stop listening!
Final rating: 5 out of 5 stars
Follow the author and on Twitter: @AlywnFJH
#RebelOfTheSands #AlwynHamilton #YAlit #teen #romance #magic #adventure #djinn