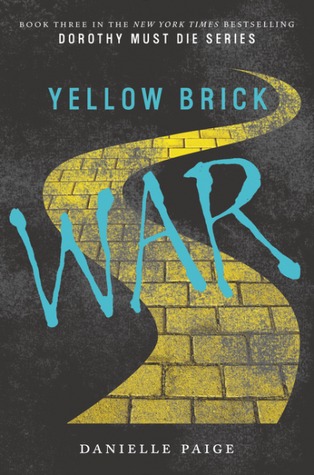 Magical protege Amy Gum is back in this third installment to Paige's
Dorothy Must Die
series. She must do everything in her power to save Kansas, kill Dorothy and save the land of Oz from its evil foes. However, nothing goes according to plan--stuck all but powerless in Kansas, Amy isn't quite as much of the witch-team as she expected. She has to make contact with her former life in order to find an important magical object that just might be the ticket back to Oz--too bad there is another villain poised to cause trouble.
I continue to adore this series. It is funny, well written and engaging in a face paced and creative spin on L. Frank Baum's classic. I admire Paige's ingenuity and ability to expand on aspects of the original fantasy series by adding modern flair for contemporary audiences. The overall characterization is fantastic. Amy is funny and genuine but also multilayered enough to stay interesting as she shows vulnerability and a dark side.
My biggest disappointment is that I have to wait another whole year for a new book!
Yellow Brick War
ends with another great cliffhanger. I have an inkling that nothing is ever quite as it seems, especially with the Quadrant, Dorothy and the introduction of the Nome King. I think he will prove to be an deliciously evil and manipulative foe but I'm sure we haven't seen the last of Dorothy or even Glinda.
I highly recommend readers finish
Dorothy Must Die Stories Volume 2
before picking up this third book. Events that take place in those stories, especially "The Straw King" and "Ruler of Beasts", set the stage for
Yellow Brick War
and provide a bit more background about Dorothy's ruby slippers and the Nome King.
The audiobooks of this series are pretty fantastic as read by Devon Sorvari (@devonsorvari) is pretty fantastic. Great presence, character depth and standout charisma to make this story pop!
Final rating: 5 out of 5 stars
Follow the author on Twitter: @daniellempaige
#YellowBrickWar #DorothyMustDie #audiobook #YAlit #teen #books #fairytale #magic #humor