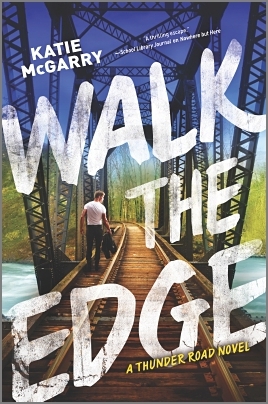 Two worlds collide in Katie McGarry's second installment to the Thunder Road series.
Available March 29, 2016 from Harlequin Teen
Breanna Miller has always been known as the freakishly smart good girl. She's determined to be less invisible during her senior year before fleeing Snowflake, Kentucky but she never considered being noticed would change her life in so many ways.
Thomas 'Razor' Turner is one of the more volitale young members of the Reign of Terror MC. Devilishly handsome, fiercely protective and intelligent, he's also haunted by the death of his mother and a slew of unanswered questions.
Fate brings these two together. Breanna's in need of a protector and she also might be the only person who can help Razor solve the puzzle of his mother's death. When an intensely intimate but rather innocent moment between the two is photographed, Breanna is blackmailed and seeks Razor's help but as these two spend more time together, their feelings grow. Both 'walk the edge' between who they are and who they want to be.
I'm a huge Katie McGarry fan and Walk the Edge doesn't disappoint with action, suspense and memorable characters. The novel is a the perfect blent of edgy, realistic fiction and romance but balances relevant real-life issue such as identity, grief, suicide, and social media threats to one's reputation. Definitely for ages 14 and up due to language, some violence and sexual situations. I've already added Razor to my neverending book boyfriend list. He's an intense, dangerous bad boy but loving, brave and protective of those he cares about. Each of the main characters grows throughout the story and overall, I loved the reading experience!
Final rating: 5 out of 5 stars
Keep reading below for a brief Q & A from Katie and an exclusive excerpt!




Q: What do you most want readers to know about Walk the Edge?




A : Walk the Edge is the story of the boy everyone sees, but nobody knows who is with the girl everybody knows but nobody sees.




Q: What is in store for the next book in the Thunder Road series?




A: I'm currently working on the third book of the Thunder Road series which will be Chevy and Violet's story.




Q: Can you tell readers a bit about the experience writing Walk the Edge? Was the process comparable to other books or different in any way?




A: Walk the Edge came surprisingly easy. Razor and Breanna are characters who are just meant to be together and their story flowed.




________________________________Excerpt_______________________________



Her face is white against her raven hair. Ghost white. I'd bet my left ball she hasn't breathed since I spoke. Her hand is outstretched toward the busted cell on the ground, but her wide hazel eyes are cemented on me. I turn my head and I'm greeted by the amused faces of my brothers from the Reign of Terror who stand next to their bikes in the parking lot. They'll be harassing me on this for weeks. Fuck me for trying to be chivalrous.
"You okay?" It's a variation of the question I asked a few seconds ago, but this one she seems to understand as her body trembles to life.
"Um…" she stutters. We've been at the same schools since elementary age, otherwise I'd wonder if she was a foreign exchange student with limited English. "I only have twenty dollars."
The muscles in the back of my neck tense. "I'm not going to jack you for your money."
She quits breathing again.
"Nice to know your current bank account status," I bite. "But I asked you if you were okay."
Color returns to her cheeks as I pin her with my gaze. She accused me of trying to rob her. I know it, she knows it, and she's now informed I'm not the asshole in this scenario.
"Yes," she finally answers. "I'm okay. I mean no…I mean…I broke my phone."
She did and that sucks for her.
Her eyes flicker between me and the phone like she wants to retrieve it, yet she's too paralyzed. Saving us from this torture, I swipe the pieces of the cell and lean against the wall.
The distance between us relaxes her and that gulp of air was audible as she tucks herself tight in the corner farthest from me. This reaction isn't new. I've seen it since I was a child whenever my father or anyone from the Terror entered a room full of civilians. To everyone outside of the club, we're the evil motorcycle gang bent on blowing the house down.
People and their hellish nightmare folklore involving us piss me off. I don't know why I told the guys to give me a minute. I'm late for plans I made with Chevy and some girls, plus I'm on call in case the board chooses to meet sooner rather than later to discuss Detective Jake Barlow.
But something about how this chick appeared alone and frightened messed me up. It reminded me…The thought stalls and the emotional speed bump causes a flash of pain in my chest. Screw it, her expression reminded me of Mom the last time I saw her—the night she died.
My mom. I shake my head to expel her ghost. One visit from one bastard trying to use me and I'm being haunted by a past I can't change. That's what the detective was salivating over—to use me for info on the club. He's one of too many who believes our club is the devil's prodigy.
What he doesn't see is that we're a family—the type of family that comes when called. Obviously not like this girl's family.
"Is it yes or no?" It's damn difficult to shove the battery in now that the frame is bent.
"Yes or no what?" her long black hair sweeps past her shoulders. She has the type of hair that would have to be pulled up if she rode on the back of my bike. Gotta admit, I like her hair, especially how it shines under the lights of the school's overhang.
"If you're okay." I survey the mostly empty area to prove a point. "If we leave, you'll be alone, and I don't care of that. There's some real psychos out there."
________________________________________________________________________________________
About Katie McGarry
Katie McGarry was a teenager during the age of grunge and boy bands and remembers those years as the best and worst of her life. She is a lover of music, happy endings, reality television, and is a secret University of Kentucky basketball fan.
Katie is the author of full length YA novels, PUSHING THE LIMITS, DARE YOU TO, CRASH INTO YOU, TAKE ME ON, BREAKING THE RULES, and NOWHERE BUT HERE and the e-novellas, CROSSING THE LINE and RED AT NIGHT. Her debut YA novel, PUSHING THE LIMITS was a 2012 Goodreads Choice Finalist for YA Fiction, a RT Magazine's 2012 Reviewer's Choice Awards Nominee for Young Adult Contemporary Novel, a double Rita Finalist, and a 2013 YALSA Top Ten Teen Pick. DARE YOU TO was also a Goodreads Choice Finalist for YA Fiction and won RT Magazine's Reviewer's Choice Best Book Award for Young Adult Contemporary fiction in 2013.
Links:
________________________________________________________________________________
A big thanks to @katiemcgarry @HarlequinTeen and @InkSlingerPR
#WalkTheEdge #ThunderRoad #KatieMcGarry #YAlit #romance #realisticfiction #bikers #mystery #newadult