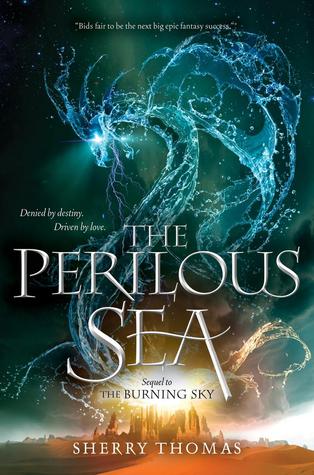 Titus and Iolanthe as Fairfax are back in this exciting sequel to
The Burning Sky
. After spending the summer apart, these two are eager to return to Eton College and resume training to defeat the Bane and take down Atlantis. However, Titus makes a shocking discovery which causes him to question everything related to his mission consequently creates tension between his and Iolanthe's burgeoning relationship.
The Perilous Sea
continues to be epic fantasy at its best. Readers are in store for plenty of adventure and definitely some surprising plot twists. What I particularly loved were the alternating chapters--let's call them 'before' and 'after' perspectives all keeping pace until readers embark on the crucial event bringing the characters and the audience up to speed.
I certainly wasn't expecting the 'twist' but had faith everything would work out in the end. Great world building throughout with just enough snark and romance. I like that this is the kind of book with appeal to a wide range of readers, both male and female. Again, I wish the audiobook was a bit more exciting in its narrative retelling but there are no grand flaws which hinder the reading experience. I am excited to finish the series with book 3,
The Immortal Heights
.
Final rating: 4 out of 5 stars
Follow the author on Twitter: @sherrythomas
#ThePerilousSea #magic #SherryThomas #romance #fantasy #YAlit #bookreview