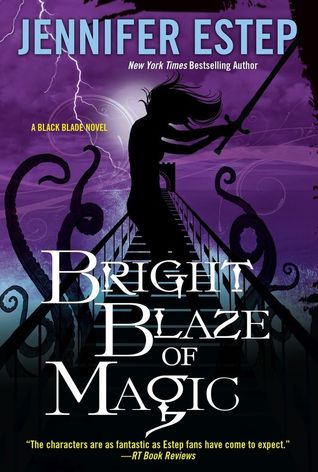 *Thank you to @Netgalley for an ARC in exchange for a review*
Expected publication:
April 26, 2016
Lilah (Merriweather) Sterling is back in this exciting edition to the
Black Blade
series as she and her allies prepare to thrwart Draconian head of the family, Victor, in his plans to dominate the ruling families of Cloudburst Falls. Once a thief, always a thief. Lilah embarks on the ultimate heist--to snatch an arsenal of power laden black blades right from under Victor's nose. She and her allies think they have the advantage until Victor makes his move. It will take all of her cunning and skill to save not only herself but those she holds most dear.
Bright Blaze of Magic
is an exciting third book which could wrap up the series but also leaves room for subsequent stories. I really like Lilah and the supporting characters, Devon, Felix and Deah. When I reviewed
Cold Burn of Magic
and
Dark Heart of Magic
in
2015
, I mentioned how much she reminds of of Gin Blaco from Estep's adult urban fantasy
Elemental Assassin
series. This continues to be the case, but I love it. She's funny, independent yet vulnerable and a kick butt female protagonist.
There's plenty of action, good story line progression and just enough romance balanced with thwarting the villain and finding some justice for past wrongs. I think my favorite 'character' continues to be the tentacled lochness monster living beneath the toll bridge. This is definitely the type of creature you'd like to have in your corner.
Overall, I recommend this for middle school readers and older who enjoy urban fantasy that has good pacing and interesting characters. This is an exciting and engaging read. I'm content if this wraps up the series but would be please to learn that they'll eventually be more.
Final rating: 4 out of 5 stars
Follow the author on Twitter: @Jennifer_Estep
#BlackBlade #BrightBlazeOfMagic #JenniferEstep #YAlit #urbanfantasy #books #teen