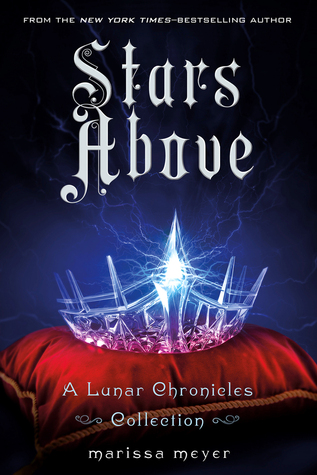 Stars Above
is the short story collection of the
Lunar Chronicles
including 9 stories, 5 of which have never before been published. For fans of the series, this is a delightful companion and well constructed anthology where we revisit beloved characters, gain insight into backstories and fall in love with the series all over again.
"The Keeper"
- this is Michelle Benoit's story and how she became Princess Selene's "keeper." I really enjoyed this since it is a perspective we didn't know much about. I loved adolescent Scarlet. She was just a fiery as I knew she would be.
"Glitches"
- this details Cinder's first memories and meeting her adoptive family. We see Audri's animosity and witness Cinder's uncertainly as well as glimpse the devastation associated with the plague. Plus, we meet Iko for the first time! I read this when
Cinder
was released. It was interesting to go back now that I've finished the series and know all those interconnected details. I still really enjoy this short story.
"The Queen's Army"
- this chronicles Ze'ev aka Wolf's story having been taken from his family, genetically modified and trained as one of Queen Levana's super soldiers. I love Wolf and this insight into his past . It seems so long ago that I read this for this first time with little clue Z would be Scarlet's Wolf.
"Carswell's Guide to Being Lucky"
- (swoon) I'm a Carswell fangirl forever. Even as a teen he's charismatic, confident and planning his next big success even if things don't always go as planned. Readers get some insight into his character and that infamous Kate Fallow story which makes Cress swoon. Carswell is always a sucker for a damsel in distress.
"After Sunshine Passes By"
- readers learn how 9 year old Cress ended up alone on the satellite. Get ready to have your heart ripped out. This one is so sad! Seriously, my heart still hurts :(
"The Princess & the Guard"
- this sets up good relationship backstory for Winter and Jacin as well as what a heartless witch Queen Levana is. I like the explanation as to why Winter chooses not to use her Lunar gift of manipulation.
"The Little Android"
- a rift on the Little Mermaid tale and probably my least favorite of all the short stories. I like the glimpse of Cinder and the themes represented but it isn't as memorable for me.
"The Mechanic"
- Prince Kai's first meeting with Cinder from his perspective. I liked this sweet story and how it takes us back to the beginning.
"Something Old, Something New"
- this is the story of a wedding! I hesitate to say whose but it is delightful and gets the gang together again two years after the ending of
Winter
. It will make you laugh and feel all the feels!!!!
P.S. The first two chapter of
Heartless
are
AMAZING!!!!!!!
Final rating: 5 out of 5 stars
Follow the author on Twitter: @marissa_meyer
#StarsAbove #LunarChronicles #twistedfairtales #romance #shortstories #YAlit #teen