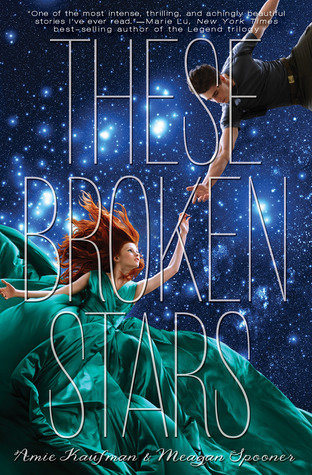 These Broken Stars
is the first in the
Starbound
trilogy. The
Icarus
is the finest luxury spaceliner in existence. Lilac LaRoux, heir to the LaRoux empire, is the daughter of the richest man in the universe; however, she is suffocated by her father's insistence of controlling every aspect of her life. Tarver Merendsen is a dashing and decorated, if cynical, war hero, who takes a chance to flirt with Lilac, not fully knowing who she is. When the
Icarus
plummets from hyperspace onto the nearest planet, Lilac and Tarver are the only survivors. Together, they must travel across eerie deserted terrain of a failed terraformed planet where they learn a devastating truth that will changed their lives forever.
I really enjoyed this book. I loved the idea of two star crossed lovers from different classes. Lilac and Tarver have great chemistry and readers will enjoy their banter as well as watching how their relationship builds. I was often reminded a bit of Jack and Rose from
Titanic
, especially all the references to how amazing and indestructible the
Icarus
was designed to be, much like the
Titanic
in 1912. There is great depth of character which allows the blooming romantic relation to appear believable. I like the supernatural element and its impact on the characters as well as the "big picture" which frames the rest of the series.
The audiobook is great. I recommend this for romance readers who like futuristic fantasy, science fiction, and adventure. This is well written and uniquely interesting.
Final rating: 4 out of 5 stars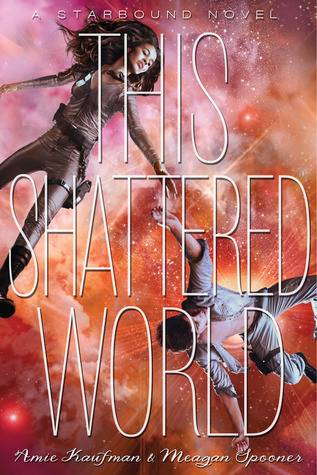 The second book in the trilogy features Jubilee Chase and Flynn Cormac as star crossed lovers on opposite sides of a war. Lee is a captain of forces sent to crush rebel forces on the terraformed colony of Avon. She hates insurgents, especially since a similar rebellion led to the deaths of her family years before. In turn, Flynn shares no love for the forces who executed his sister for daring to stand up to their broken promises.
Desperate to find any advantage in the unrelenting war, Flynn kidnaps Lee with hopes that she'll be a bargaining chip. However, when his rebel cohorts plan to execute her, Flynn chooses another path. As the fighting heat up, other strange occurrences--namely "the fury" which overcomes individuals who seem to be taken over by some other force--brings Lee and Flynn together as well as Tarver and Lilac from
These Broken Stars
when they realize all roads lead to LaRoux Industries.
I didn't love
This Shattered World
quite as much as the first book, especially since it took a bit for the connections between book 1 and 2 to present themselves. Once Tarver and Lilac made an appearance, this story picks up exponentially. I liked that the romantic relationship between Lee and Flynn was gradual without full declarations of love and devotion declare immediately. I appreciate the intricate nature of the plot development with The Whispers and look forward to reading the conclusion. As a last tidbit, I recommend the audiobooks of this series. The production value with its attention to detail is stellar and enhances the overall narrative experience.
Final rating: 4 out of 5 stars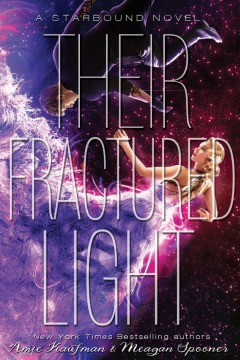 In this conclusion to the series, significant events come full circle. Sophia Quinn has a killer smile and has quickly developed the ability to con her way out of most tight situations after her escape from Avon. She's on a mission--to take her revenge against LaRoux Industries for the death of her father. Enter, Gideon Marchant, a computer hacker and whiz kid, who has his own reasons for taking down LRI. Forced to work together, Sophia and Gideon just might find what they both seek plus more than they bargained for.
I loved how all three books finally came together. Readers will remember Sophia from book two and Gideon has a significant connection to Lilac and a past relationship from book one. Lilac, Tarver, Lee and Flynn are back for most of the action which is again tied to the Rift created by LRI and the imprisonment of the otherworldly "Whispers." This group will have to work together in order to save all they know from the most ancient of the Whispers whose prolonged imprisionment has left it eager for vengence in the form of all humankind's demise.
Readers won't be disappointed with how this all comes to fruition. Overall, I think my favorite trilogy couple is Lilac and Tarver but I like the realism developed between all the other characters. The relationships are plausible and relateable and I love the frest twist on science fiction story telling which Kaufman and Spooner infuse throughout the series. These books are truly unique but will appeal to a wide readership interested in quality narrative including action, adventure, politics and, of course, romance.
The audiobook was again truly stunning so defnitely check it out!
Final rating: 4 out of 5 stars
Follow the authors on Twitter: @AmieKaufman @MeaganSpooner
#Starbound #TheseBrokenStars #ThisShatteredWorld #TheirFracturedLight #YAlit #futuristic #romance #teen #amreading