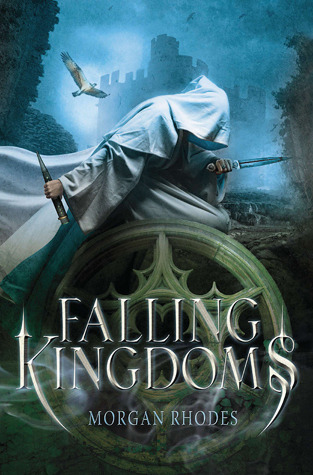 Within the three kingdoms of Mytica, magic has been long forgotten. There has been peace for centuries; however, strife over the haves and have nots brings tensions to a precipice. As rulers of the kingdoms grapple for power, their subjects are sometimes brutally affected--four in particular emerge as key players: Cleo, Lucia, Jonas and Magnus. Each are caught in a frenzy of deceit, treachery, murder, alliances and a fair share of heartache.
Falling Kingdoms
is the first is an epic fantasy series with four entries to date and more books pending. I'd been planning to read this for years at the insistence of several teens who praised its "amazingness" and make me promise get to them. In general, I liked this first book. The world building is complex and there is depth to the character; however, I think readers only get a glimpse into the journeys and trials they will endure.
What I didn't like was the pacing. At times, I felt that the story moved a bit slowly and was a little disappointed by the end. That being said, I do think that this first book sets the stage for a much more intricate arc wherein readers will discover how these four characters will impact each other and their world. Personally, I cannot wait to see more magic!
Lastly, I wasn't a huge fan of this particular novel on audio. Having one male narrator didn't accurately represent the characters well. I think I would have liked the book more in print and certainly been more engaged with the characters and their feelings. I recommend this for fans of epic fantasy series and as a readalikes for Robin LaFevers
His Fair Assassin
trilogy and Sarah J. Maas'
Throne of Glass
books.
Final rating: 3.5 out of 5 stars
Follow the author on Twitter: @MorganRhodesYA
#FallingKingdoms #MorganRhodes #fantasy #YAlit #teen #magic #whatimreading