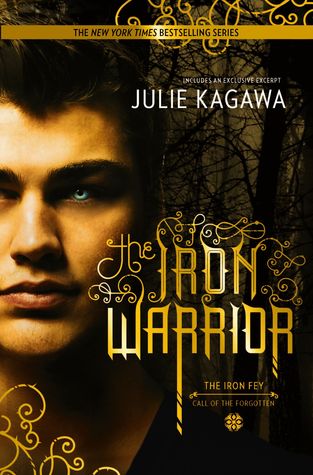 **I won this book on Goodreads! A huge thanks to Harlequin Teen and author, Julie Kagawa, for making that happen!**
The Iron Warrior
is the final book of the
Iron Fey: Call of the Forgotten
series, a continuation of Kagawa's
Iron Fey
series. When last readers saw Ethan Chase, we feared him dead, slain by his nephew--the Iron Prince, Kerirran. A month has passed and by some miracle Ethan has survived. He must set out on a new quest to save all of Faerie,the human world and most importantly, Keirran.
This journey takes him as well as fan favorites--Kenzie, Ethan's love and iron gremlin, Razor deep into the heart of Faerie on a quest to find Annwyl, Keirran's ill-fated love for who he sacrificed he soul to save with dire consequences. Finding Annwyl is the easy part since they then have to convince Keirran to destroy the amulet, keeping her alive, of his own free will in order to reclaim his soul and to sway his allegiances away from the Forgotten Queen before she permanently drops the Veil between Faerie and the human world. (Got all that? Ok, moving on...) Along the way they get help from some unlikely allies, most notably the Thin Man, Grimalkin and the Wolf.
I loved this book and the whole series too much to spoil it for readers. Safe to say the character development and adventure fans have come to expect from Kagawa are present. There's a fantastic blend of storytelling with humor and romance. Ethan finds a way to channel and dispel much of his rage and negativity toward the Fae, especially Ash now that he understands his sister's choice to stay in Faerie as the Iron Queen.
My favorite characters remain those who support the protagonists and and how they move the story along. I adore Razor. His little one liners make me laugh out loud every time. "Evil, bad kitty!" I'm also a sucker for Grimalkin, since his first appearance in
Iron King
way back when. His demeanor exudes my favorite attributes of the Cheshire Cat in
Alice in Wonderland
.
Kagawa remains one of my top 5 YA fantasy/sci-fi writers. I always say a mere sentence of hers is worth far more than paragraph upon paragraph of other authors' writing. There is an attention to detail that appears effortless but draws the reader in fully, spinning glorious tales of adventure, romance and woe. Her book boyfriends are some of the most swoon worthy around. I don't think I'll ever not gush over Ash. He's just that perfectly awesome.
If you've never read any of the series, what are you waiting for???
Go forth and read! I also highly recommend the audiobooks.
Iron King, Iron Daughter,
Iron Queen
and the short stories from Meghan Chase's POV all read by Khristine Hvam;
Iron Knight
narrated by the ever fabulous MacLeod Andrews and
The Lost Prince, The Iron Traitor,
and
The Iron Warrior
all read by Jake Lewis.
I've read other reviews that expressed shock and dismay concerning one particular main character's fate. I'll agree that I wanted more from this outcome; however, I am holding out that the day will come for readers to get a more satisfying conclusion. While Kagawa touts that this is the final conclusion to the series, I hope she revisits these characters in the future with, if not another series, possibly a set of short stories where everyone finds redemption and a happily ever after.
Final rating: 5 out of 5 stars
Follow the author on Twitter: @JKagawa
#IronFey #JulieKagawa #TheIronWarrior #YAlit #fantasy #books #whatimreading