Nielsen's trilogy is categorized as historical fantasy fiction with a plausible realistic flair. The kingdom of Carthya is in shambles and a civil war is imminent. Nobleman, Connor, devises a plan to put his own 'king' on the throne by choosing a young man to impersonate the king's long lost son. Sage, along with three other orphans are subjected to a number of gruling tests in order to win Connor's favor and be chosen to complete this task; however, there is trechery and deceit at every turn. The False Prince ends with a surprising twist.
Final rating: 3 out of 5 stars
The Runaway King shifts gears. Prince Jaron has returned and taken the throne. However, when a deadly assassination attempt puts his life as king in danger, he must make some tough decisions to protect his life and the safety of his kingdom. Jaron sets out on a journey amongst the pirates. This second book is filled with the same excitement and mystery. Jaron encounters a interesting mix of characters, some who'll have a large impact on his future and others who've shaped his past.
Final rating: 3 out of 5 stars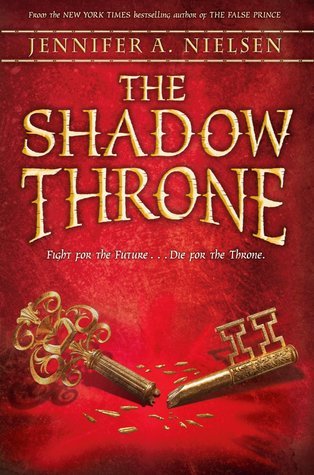 The Shadow Throne is the final book in the series. The kingdom of Carthya is still in peril as Jaron learns that King Vargon of Avenia is plotting a hostile take over fueled by kidnapping Jaron's best friend and possible love interest, Imogen. He plans a daring rescue when everything goes wrong. Isolated from his his allies, Jaron make one last ditch effort to save his kingdom and everyone he loves. The real question is whether his characteristic wit and cunning will be enough or if he'll lose everything
In general, I enjoyed the series. This is one that bridges the gap between juvenile and YA fiction. The recommended age is for grades 6 through middle school. There is good world building yet I wouldn't say that I was all that connected to the characters. After I finished the first book, I wasn't compelled to read further other than the necessity to get to book three which was the subject of my review. I didn't feel as if Jaron changed all that much over the course of the series.
Overall, I felt as if this final installment lagged a bit with book two being my favorite. Maybe it is because I'm a sucker for a good pirate adventure or that I found it the least predictable of the three. I would recommend this for those emerging as teens who enjoy similar fiction. There is moderate violence and a touch of romance but all is age appropriate and not graphic.
Final rating: 3 out of 5 stars
_________________________________________________________________________________
Thanks to Scholastic for a ROYAL review copy submitted to the SWON Libraries.
#AscendanceTrilogy #JenniferANielsen #teen #YAlit #review #fantasy #fiction