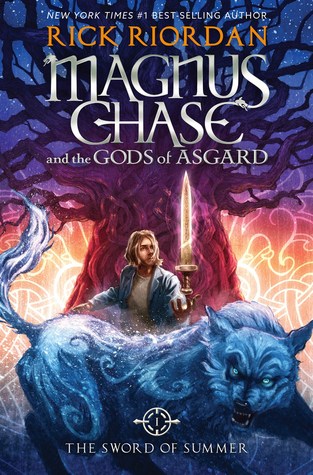 The Sword of Summer
is the first in Rick Riordan's new Norse mythology centric series. Sixteen year old Magnus Chase (yes, he's Annabeth's cousin!) has had a turbulent few years. Following the mysterious death of his mother two years, before, he's been living alone on the streets of Boston. When he's tracked down by the very man his mother warned was dangerous, Magnus get the shock of a lifetime.
In a strange twist of fate, Magnus' life is over before it really began. Carried in his afterlife to the halls of Valhalla, Magnus is shocked to learn he's the son of a Norse god and that all the Viking lore he learned as a child is true. The Asgardian gods are at war and doomsday is fast approaching. To prevent Ragnarok, Magnus and his new comrades must search the Nine Worlds for a powerful weapon, the Sword of Summer, all while deciding who to trust and ensure that Fenrir--legendary wolf-son of Loki--doesn't escape his bound prison.
Fans of Riordan's other mythology based YA series won't be disappointed. Magnus reminds me greatly of Percy Jackson but perhaps with a bit more sarcastic edge, especially since he's experienced far more tragedy and hardships than our beloved Greek demigod. I found this first in the series far more humorous than the
Heroes of Olympus
series as a whole. Besides humor, there are plenty of other characteristic present which Riordan readers have come to expect including the introduction of diverse characters, creative, adventures plot and an easily accessible way to learn more about mythology.
Overall, I loved it and certainly recommend the audiobook read by Christopher Guetig. He gives each character memorable flair and highlights the exciting story and hilarious moments. I think it will be a great series and I can't wait for the
Hammer of Thor
's publication in 2016.
Final rating: 5 out of 5 stars
#Norse #mythology #YAlit #teen #swordofsummer #magnuschase #rickriordan