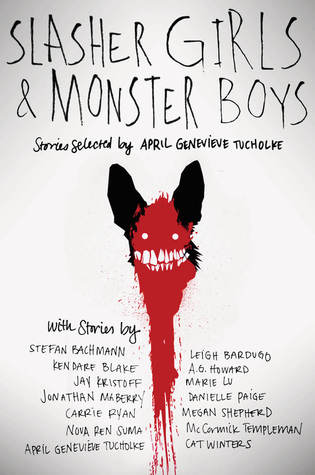 Slasher Girls & Monster Girls
is an YA anthology of scary stories edited by April Genevieve Tucholke. Thirteen notable teen authors lend their prowess to some downright terrifying stories that will have general fans and more cowering in a corner with a blankie and flashlight at the ready. This is a fantastic go-to volume for year-round reader's advisory. I know I get teens wanting something 'scary' all the time. Let's face it, for YA readers there often aren't a lot of truly scary titles. I often recommend anything by Brenna Yovanoff or the
Asylum
series by Madeleine Roux if they want something beyond R.L. Stine and aren't quite ready for Stephen King.
Personal standouts within
Slayer Girls & Monster Boys
:
"Verse chorus verse" by Leigh Bardugo - a teen superstar lands herself in 'rehab' but sinister things happen that make this a not so sweet retreat to get her life on track.
"Sleepless" by Jay Kristoff - inspired by Hitchcock's Psycho, readers are in for a creepy treat. Full of Kristoff's trademark edgy humor.
"Dark, scary parts and all" by Danielle Paige - set in high school and heavy with Frankenstein and Dracula allusions. The school outcast encounters bullying and other drama with a surprise supernatural twist.
"Fat girl with a knife" by Jonathan Maberry - a short story about a high school outcast but what happens when the bullied girl is your best defense at the beginning of the zombie apocalypse.
"Girl without a face" by Marie Lu - great, creep imagery. This one will give readers chills!
"Stitches" by A.G. Howard - super, super creepy! A young girl agrees to dismember her father over time as part of his penance for other deeds.
Each story is inspired by a song, film or another literary reference. By far my favorite was "Sleepless". In fact, a week later, I'm still pretty creeped out!
Final rating: 4 out of 5 stars
#YAlit #teen #anthology #shortstories #bookreview #horror #scary #slashergirls&monsterboys
Verse chorus verse /Leigh Bardugo