Set some 14 years after the zombie apocalypse that ended the world, 15 year old Benny Imura has lived within the protected fences of Mountainside nearly all his life. Benny must now find a job within town or face the reduction of his food rations. When other opportunities don't pan out, he reluctantly agrees to apprentice as a zombie hunter with his brother Tom, whom Benny sees only as boring and cowardly. However, their first trip outside into the Rot and Ruin begins to open his eyes to just how dangerous the world still is and that Benny knows little about his older sibling.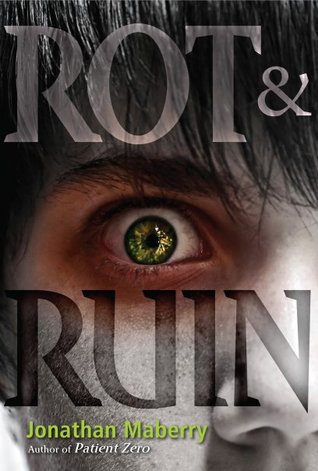 Violent events inside Mountainside lead Benny and Tom on a crucial rescue mission. During this high stakes operation, he learns some truths, meets others who will impact his future and ultimately begins to discover more about himself and how he wants to fit into this world. Will he stay within Mountainside's fences and pretend everything is fine? Or, will he take a stand and acknowledge that he and others can stop more innocent people from being hurt?
What I liked...
Everything! But to elaborate:
Characters - Benny is a well developed but evolving teenager. He, like all the other protagonists, come across as memorable and authentic. I absolutely adore Tom! What a multi-layered mentor. Nix is also a force to be reckoned with and her continued development throughout the series always holds my interest. There are plenty of others but I have to mention Lilah. I'm awestruck by her each and every time. The fierceness. The pain. I think she might be one of the most fascinating characters written in any genre that I've come across. Maberry is also top-notch at developing memorable villains. They come to life and nearly jump off the page with their diabolical plans.
Story - the premise is just plain awesome. What do you do when you are are teenager who has grown up after the zombie apocalypse? Get a job, of course! I love Benny's and Chong's failed job attempts. The story builds beautifully. As readers, we watch Benny mature with the rise and fall of the major plot points. The story is very much a coming of age, just with zombies and some truly unique challenges! I love how easy it is to get swept up in the humor, the action and the emotion.
What I didn't like...
Absolutely nothing! This is my second reading of book 1. I am a self professed Maberry fangirl. I first read his adult
Joe Ledger
series. However, these are entwined with the
Rot & Ruin
and
Dead of Night
books. So, to get the true reading experience, you'll have to read them all as a before, during and after commentary.
Maybe what I don't like it that it is over. I want the series to go on and on and on. Don't get me wrong. I thought the ending (
Fire & Ash
) was poignant and a fantastic conclusion but I adore these characters so much that saying goodbye makes me want to re-read them again and again. One bright spot is the 2015 publication of
Bits & Pieces
, a short story collection that fills in more of Benny's adventures. I'm still waiting (not patiently) for the audio of this since Brian Hutchison does a phenomenal job.
If you haven't read these yet, please do! I know some readers sigh and say, "I'm not into zombies!" However, like watching
The Walking Dead
this series is only partly about the presence of 'zoms' in the post-apocalyptic world and more about the evolution of the survivors and the choices they make to uphold the principles of their former society or spiral into lawlessness or fanaticism. The characters are so well developed and authentic that this is a great reading recommendation, especially for reluctant readers. There's a significant amount of humor offset but bigger thematic issues and fantastic fast-paced action.
You will laugh AND you will cry. The ending wrecks me EVERY. SINGLE. TIME.
Follow the author on Twitter: @JonathanMaberry
Final rating: 5 out of 5 stars
#jonathanmaberry #Rot&Ruin #YAlit #zombie #bookreview #teen