Queen of Shadows
is an astonisting fourth entry in Maas'
Throne of Glass
series.
I'm actually having difficulty writing its perfection is mere words.
Safe to say it was
perfect.
I cannot think of a single detail that could be changed. It is everything I wanted, needed and then some.
We've previously known her as Celaena Sardothien, an orphaned but trained deadly assassin. In this installment, she has now returned to Rifthold to bring down the king, save her cousin,
Aedion, as well as aid Chaol in freeing Prince Dorian,
and stake her claim as
Aelin Galathynius, Queen of Terrasen. All are quite challenging feats but Aelin accomplishes them with fierce fearlessness, sarcasm, compassion, grace, trustworthy allies and a whole lot of luck.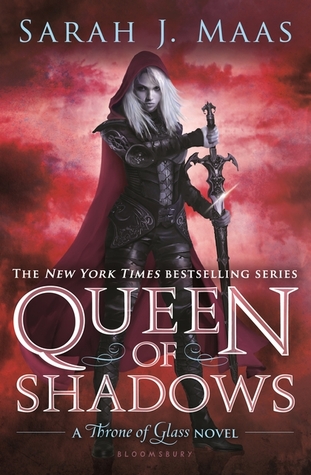 An interesting plot shift is the role Manon Blackbeak, Wingleader of the Ironteeth Clan's Thirteen. Deadly witch warriors summoned to Morath to do the nefarious bidding of Duke Perrington. (I won't spoil anything here but !!!! he's baaaad man!) We first met Manon in Heir of Fire and she is quickly becoming one of my favorite characters. Her connection to the next part of the story should prove exciting and her first encounter with Aelin is truly epic!
Readers won't be disappointed as Maas weaves together an intricate plot with plenty of surprises and character developments which shift the story into a new phase for subsequent books. There is certainly no shortage of action, revenge, betrayal and angsty romance. Those wishing for Aelin's relationship with Rowan to heat up won't be disappointed in the least.
This was one of those reading experiences where I couldn't put it down but dreaded the end because then I'd have to wait longer for the next book. I laughed. I cried. I panicked and held my breath. Maas is a force to be reckoned with in the fantasy genre, both in and out of YA circles. I really can't say enough amazing things about this. I wholeheartedly recommend it for not only teens but anyone looking to read a fantastically imaginative and well written fantasy book and series.
Now I'm going to go weep that I have to wait so long for book 5 :(
Final rating: 5 out of 5 stars
#queenofshadows #throneofglass #sarahjmaas #YAlit #fantasy