Disclaimer: I received an ARC from Netgalley in exchange for a review
Something strange is happening in New York City. A deadly sleeping sickness is spreading, raising racial and ethnic tensions among the citizens of the city that never sleeps. Henry has been dream walking nearly every night in search of his long lost love, Louis. On these treks he encounters Ling Chang, another dream walker. Together they discover the root of the sickness but must band together with the other Diviners both in and out of the dreamworld to catch a killer.
Lair of Dreams follows the supernatural showdown with a ghostly serial killer from The Diviners. There is an interesting division of characters following the first book. Evie O'Neil, "America's Sweetheart Seer", has been outed as a Diviner, 'reading' objects which connect her directly with the past. While she's a media darling, not everyone thinks so. Evie embarks on her own adventure of sorts with Sam (still desperate to find his mother and learn the truth about Project Buffalo)--questioning her burgeoning feelings for him and her lingering ones for Jericho.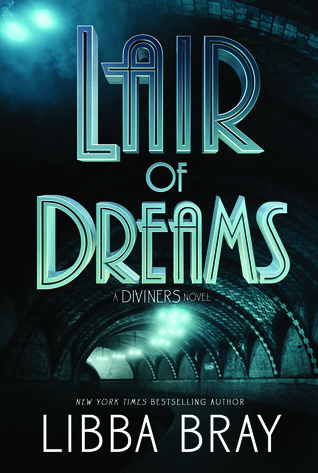 The historical setting of this series is so well done and utterly unique based on a lot of titles published in YA fiction. The roaring '20s was such an intriguing time, especially in NYC. Bray incorporates the language, fashion, and culture of this era with pizzazz. I definitely recommend it for the reader who wants a supernatural story that is different and takes him/her to another time and place.
Does this novel have the same magic as book one? No. I did not care for the pacing. As consistent with Bray as a writer, her plots and character development are stellar. However, I felt like the whole story lagged until I got about 75 percent in. I did not care for the character disconnect; however, I do understand that such an authorial choice is a plot point to bring our band of characters back together. Much of the twists and turns became all too predictable, but I did enjoy the last quarter of the book. Perhaps what I missed most was the creepy vibe present in The Diviners. When I think about that story, I still get chills. The same feeling wasn't apparent for this book.
Final rating: 3 out of 5 stars
#review #YAlit #netgalley #lairofdreams #libbabray #ghosts #dreams #supernatural #roaring20s