The first in a new series by bestselling author Rachel Caine,
Ink and Bone
supposes what the world might be like if the Great Library of Alexandria had survived the test of time. Readers of any age will be enthralled by Caine's rewrite of history; spinning a dangerous tale of power and corruption.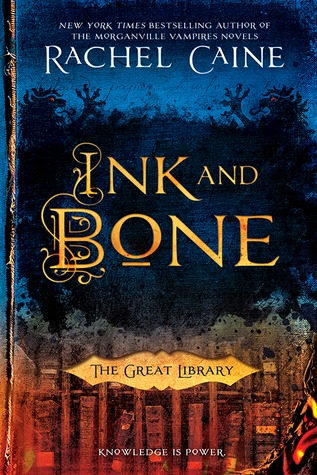 The Great Library maintains a presence in every major city; providing knowledge to the masses. However, the use of alchemy to deliver content instantly is closely monitored and the personal ownership of any book is forbidden. As such, a competitive and deadly book black market exists and young Jess Brightwell's family is in the thick of it. Sent to act as a spy, Jess's loyalties are quickly put to the test as he trains to enter the Library's service. Jess soon learns that not all is what it seems. The secrets revealed will certainly change not only his life but the world.
I loved this book! This is a departure from the urban fantasy Caine typically writes. I am a big fan of her adult sci-fi/fantasy
Weather Wardens
books as well as the YA
Morganville Vampires
series. Characteristic of her work, readers will delve into fantastic world-building and superb characterization. The historical re-write is fascinating and generates plenty of discussion points. I'm considering
Ink and Bone
for a future reading selection in my Young @Heart book club (teens and adults who like to read YA fiction).
The cover art is just stunning and will look great on display. I will add that I listened to the audiobook narrated by Julian Elfer. I did not love his performance, not because Elfer was lacking in any way but that his rich, manly tone did not fit how I'd imagined sixteen year old Jess to sound.
I highly recommend this book for purchase. Read it sooner rather than later!
Final rating: 5 out of 5 stars
Follow the author on Twitter: @rachelcaine
#bookreview #history #YAlit #INKANDBONE #rachelcaine #library