Disclaimer: I received an ARC from Netgalley in exchange for a review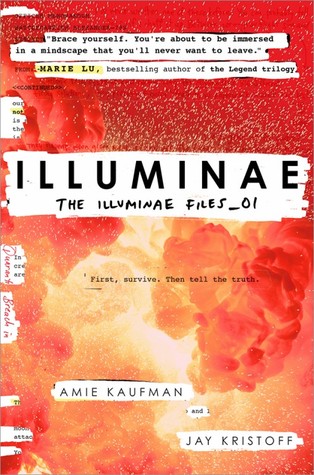 Expected Publication:
October 20, 2015
Illuminae
is so truly unique it is difficult to describe in mere words. This is a multigenre, fast paced futuristic science fiction drama. Set in the year 2575, readers learn that two megacorporations are at war over the tiny, ice encrusted Kerenza. The morning of a devastating attack on her planet, our feisty teen heroine and hacker extraordinaire, Kady Grant, has just broken Ezra Mason's heart. However, while barely on speaking terms, they have to work together to survive. Separated on two separate ships, Kady soon discovers that the only person who can help her is her ex who she vowed to never speak to again.
And yet, surviving this attack is just the tip of the iceberg. While trying to outrun the Lincoln, which wants to blast both the Hypatia and the Alexander to bits, we learn that a deadly plague (think homicidal Jack from Stephen King's The Shining) has broken out aboard a ship carrying survivors and the ship's Artificial Intelligence A.I.D.A.N., whose primary job is to protect, might actually be plotting to kill them all.

It is hard for me to express the coolness factor for this book. It is a visual feast and readers really need to get their hands on it to absorb the experience. Truly, the composition is like nothing I've ever seen before. It's an action packed thriller filled with big, bad greedy corporations, tight lipped and corrupt political leaders and a psycho super computer! Plus, it's a love story with realistic characters! Teen readers will love the format and the snarky dialog.

The feels are tremendous. I had more than a few panic stricken moments spent shouting at the book pages, willing Kaufman and Kristoff to quit torturing me. I know that I will wait with baited breath for the next book now that even more delicious characters and complications have arisen at Illuminae's conclusion.

Final rating: 5 out of 5 stars

Follow the authors on Twitter: @AmieKaufman @MisterKristoff

#illuminae #review #YAlit #sciencefiction #awesomeness