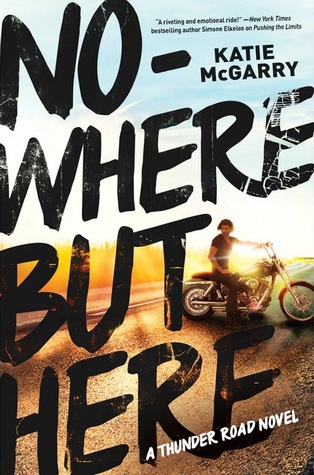 Nowhere But Here
marks the beginning of McGarry's
Thunder Road
YA (new adult light) series. Set in Snowflake, Kentucky, readers become immersed in the mysterious life of motorcycle club the Reign of Terror. Eighteen year old Oz has only ever wanted on thing--to join the Terror. He's waited and his chance at becoming a club prospect is in sight; however, the arrival of Emily, the estranged and sheltered daughter of one of the club's most respected members, changes everything.
Emily has grown up sheltered and privileged in Florida. She is doted on by her mother and adopted father. Any contact with her biological father, Eli, has happened on annual visits in the past seven years. While she is curious about this unknown part of her heritage, the stories she's been told about Eli's abandonment of her mother and herself mean Emily wants little to do with him.
All of this changes when an unforeseen event summons Emily to Snowflake, but more is at stake than just meeting her long lost family. Instead, Emily's safety is at risk when a rival motorcycle club, The Riot, learn of her existence and threaten to use her as a pawn in an ongoing war between the two gangs. Sparks fly and love blossoms when Eli tasks Oz to protect his daughter at any cost. Throughout her extended summer stay, one thing becomes clear: nothing is what it seems. As Emily's feelings for Oz grow and she bonds with Eli's family, she uncovers secrets from the past that shock her to her core and will forever change her future.
I'm a huge Katie McGarry fan, having met her twice and worked with her when she Skyped with my library's Teen Writing Group. This was a long awaited release for me and I was not disappointed. This novel is edgy and fast paced. McGarry's research into motorcycle life is poignant and allows for truly authentic and purposeful writing depicting this lifestyle. One constructive criticism, if any, was that there where instances where the pacing and transitions felt choppy, as if the progression of time throughout the depicted summer could have been smoother.
As always, I am a lover of the author's romantic couples, Oz and Emily are no exception. Oz is dangerous and devastatingly handsome but also intelligent, gentle and kind. The bad boy with a heart of gold and super sexy to boot! At first, I didn't care for Emily; however, I grew to like her more as she matured, conquered her fears, and learned to expand her acceptance of the truth and its impact on her beliefs. What I always like about McGarry's romances is the realistic connection between characters, the development of the relationship and her ability to write sexy, emotionally charged yet YA appropriate scenes.
Overall rating: 4 out of 5 stars.
Follow the author on Twitter: @KatieMcGarry
#review #netgalley #thunderroad #YAlit #teen #romance