Set in a quasi urban fantasy, futuristic world with a tinge of steampunk flare,
Seeker
is the first in a new YA series by Arwen Elys Dayton.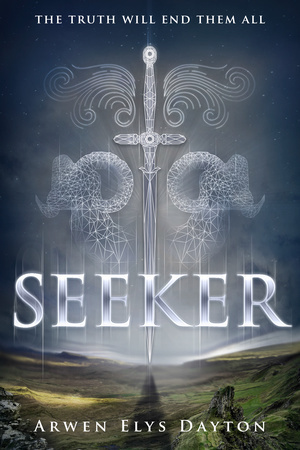 Still just a teenager, Quin Kincaid, has been through years of grueling training in hopes of taking the vow to become a Seeker, along with friend, Shinobu, and love interest, John . This role as she understands it, places her in the path to do good and protect those who need help from the evils of the world.
However, once she takes her Oath, Quin learns quickly that her whole world has been a lie. Her family and even the boy she loves are not what they seem. Realizing that her father has manipulated her, corrupted the Seeker ideal, and forced her to commit unspeakable crimes as an assassin, Quin flees her home in Scotland for Hong Kong, Shinobu at her side. The real question remains if she will be able to hide from her past or whether it will find her.
The story certainly has potential. The concept is intriguing and on point with other similar books exploring assassins in a corrupt, fantasy setting (i.e.
Game of Thrones
,
Throne of Glass, His Fair Assassin
)
.
Quin is a strong, fierce fighting and deadly female protagonist with a kind heart and good intentions. Shinobu is a flawed but loyal friend. Even his guilt and downfall make him likable and have readers hoping that he will find redemption for himself and win Quin's heart. Lastly, John is complicated, making him interesting but infuriating given much of his actions. There is a good set-up for a love triangle, which will win the interest of a lot of teen readers.
Overall, the character development is inconsistent but there are promising nuggets to explore should the author refocus for book 2,
Traveler
. There are still plenty of questions to be answered: Who will Quin choose? Will John redeem himself? Will the true nature of Seekers be restored? What is truly up with Maude/The Young Dread? Will the plot and this world ever make sense?!?
I wanted to like this book but it just didn't hit the mark for me. Much of the world-building is inconsistent. As a reader, it was difficult to follow much of the premise. There were large chunks missing from the plot, making it difficult for the writing to flow cohesively from start to finish. As a fan of fantasy reading, I can't stress enough how important it is to adequately develop background and make sure that essential connections are made. When readers do get some backstory, it feels like too little, too late. Likewise, the POV changes became cumbersome and only add to the disjointed feel of the writing and plot. Focusing on one character's journey (i.e. Quin) and exploring her reactions and growth would make me more inclined to continue reading.
That being said, what I did like were the descriptive action sequences. The pacing in these scenes was great and it was easy to visualize the details. Such sequences make this appealing to teen readers who are expecting the same fast pace set by other series. If only some of the other parts held up to the quality of these scenes.
Final thoughts
: I do not often give books a 1 out of 5 start rating, but I had to for
Seeker
. I just did not like it. I read plenty of other reviews that say the opposite. It is certainly a matter of opinion. However, I can see the appeal for the teen target audience -- action, romance, friendship, betrayal. The glaring problems for me fall back to unrealized potential, plot holes, and character disconnection. I expected more than what I was given; however, I will say that I will entertain reading the second book out of curiosity for plot resolution and character growth.
Recommended for grades 8 and up
.
Final rating: 1 out of 5 stars
*********************************************************************************
I am reviewing this book as a member of SWON's Readers of Young Adult Literature (ROYAL). Thank you to Delacorte Press for providing the reading copy.
#amreading #seeker #review #teen #books #yalit #yafantasy
@randomhouse @arwenelysdayton @swonlibraries