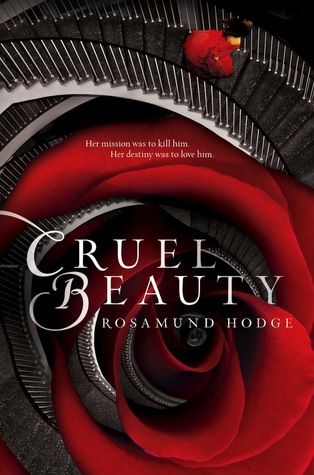 Touted as
Graceling
meets
Beauty and the Beast
, I was excited to read
Cruel Beauty
by Rosamund Hodge for the cover art alone. The bold move to incorporate the story's steel staircase as well as the famous fairy tale rose makes for an eye catching cover that entices readers.
Unfortunately, for me, the cover was the best part.
The premise: Since birth, Nyx has been betrothed to the evil demon ruler of her kingdom because of a foolish bargain struck by her father. Needless to say, she feels bitter toward her fate, her father, and her twin sister who has been the family favorite and has escaped this ominous fate. Per the bargain, Nyx is married off to the immortal,
Ignifex, and sent to him with the plan to seduce him, destroy the enchanted castle, and free her kingdom from the nine hundred year old curse.
Alas, nothing is as easy as it seems when she learns ending the curse has dire consequences as does betraying her demon husband whom she has surprisingly grown to love.
As a reader, I just couldn't connect with the protagonist. I wanted to like Nyx; however, she failed to generate much of a personality besides being angry, bitter and a bit manic. I might have liked it better if the story was from
Ignifex's POV or had altering perspectives. In general, I felt that the characters and story just lacked pizzazz.
FINAL THOUGHT: Recommended for a reader who wants a fractured fairy tale and may have already read the Lunar Chronicles, as well as titles by Alex Flynn, Holly Black, Sarah Cross and Jackson Pearce.#cruelbeauty #fracturedfairytales
Follow @BiblioFiendLM